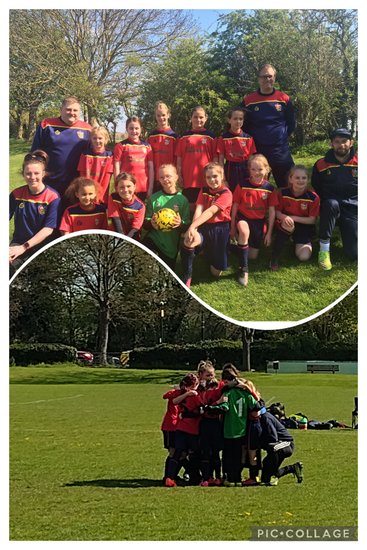 Three teams battle for a place in the Final of their age group
---
Sunday 24th April was the day for the semi-final action in the Notts Girls and Ladies Football League, in both the League cup and Plate competition. Our Under 9 red and Under 11 girls both fighting for a place in the plate final and our Under 10 girls battling for a place in the League cup final. Here's how they got on:
The Under 9 red girls faced West Bridgford Colts Lions, whilst the Lions won the day the coaches, Mark, Antony, Ellen and James wanted to congratulate their team for reaching the semi-final of the Plate competition as this is a huge achievement in their first season together stating that they "couldn't be more proud".
The Under 10 girls faced Southwell away in the Cup. The girls got off to a great start in a tense and evenly matched affair. The game was full of thrills and spills, a real cup clash with end to end action, it became clear that the first goal could have gone either way. The girls worked so hard but shortly after half time, unfortunately they conceded what proved to be the winning goal. The girls created so many great chances when we were chasing the game but sadly we were unable to get a deserved equaliser on the day. The referee made a point of congratulating both teams by telling them all that it was the best game of football he has refed all season! High praise indeed.
The coaches Tom, Lee and Roger expressed how immensely proud they are of all the girls and explained how far the girls had come in such a small space of time. They stated "what these girls have already achieved in what is their first season of playing together is amazing. All of the girls did BTFC proud and have built a fantastic team bond which is already so special".
The Under 11's were in action in the Plate against West Bridgford Lionesses, the girls were a little slow out of the blocks but soon warmed up and lived up to the fun and thrill of a cup tie. The girls put on a great performance but sadly, it wasn't to be for them this time. Coaches John and Michael were really pleased with the girl's performance and the effort that they have put it this season. Although the girls are in their 3rd season of football, this is their first full season together as Covid had interrupted the previous two seasons.
Although our Bingham Town girls didn't make it into the Final of the League Cup and Plate competitions this year, the progress all of our teams are making throughout the girls section is something that all of us at Bingham Town are truly proud of. Keep up the good work girls.
#BTFCgirls #thisgirlcan #femalefootball #BTFCSHARE