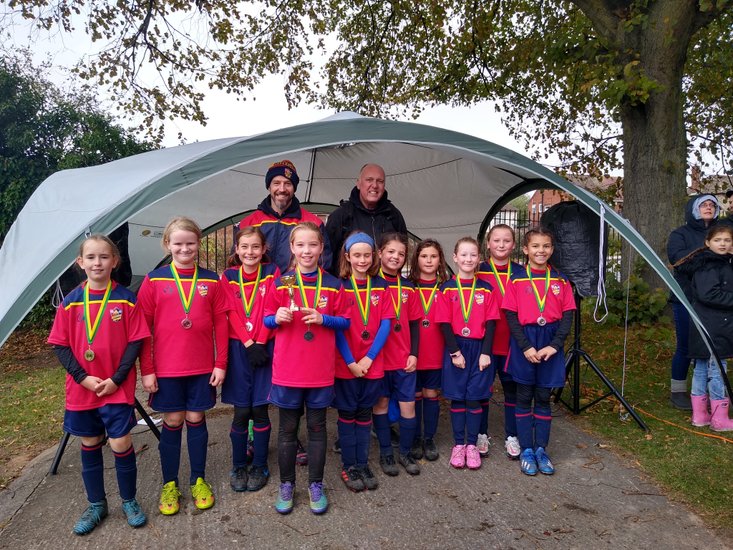 Our newly formed team impress at their first tournament…..
---
Our under 10 girls team are a newly formed team with only 4 league games under their belt. Today they attended their first tournament in Mansfield. It was wet and windy but the girls got off to a great start in the first group game against Arnold Eagles. The girls made space and fought for every ball coming away with a 2-0 win.
Their second group game they faced Nottingham Forest, this was a tight game end to end which ended with a 2-1 win to NFFC.
The last game of the group stages we faced Gedling South bank. Although it was a slow start, the girls gave their all and came away again with another win 4-0 this time.
They entered the semi final facing Arnold Eagles again with their heads held high and team spirit running through the squad which was evident to all watching as the girls won this match too with another 3-0 score line.
Coming into the final, our girls were exhausted and running on pure adrenaline, they fell behind 0-1 in the first half and fought with all their might to level up, Bingham won a corner and it was crossed into the box, curved and hit the back of the net! 1-1. The final was an evenly matched game finishing 1-1 at full time. Extra time started and the girls pressed on, unfortunately we conceded early on in the extra time and when chasing an equalizer they conceded a third. game finished up 1-3 to NFFC U10 girls.
The girls received their medals from Gerry Ward – Notts girls and Ladies league fixture secretary. We are all so incredibly proud of the resilience, determination and development these girls are showing.
Before handing out the winners medals and trophy, Gerry announced that the player of the tournament had been voted for and that player belonged to Bingham Town FC – we couldn't finish this report without saying well done Faith, what an achievement!
#BTFCgirls #thefutureisbright #girlsfootball #playingwithasmileSHARE